Midlands Historical Bicycle Tour
Overview
From single traveller to groups of 8
5 Day Midlands Historical Bicycle Tour -  Approx 80 km.
Experience Irish History with an unforgettable Bicycle tour through Ireland's Hidden Heartlands and visit,
A 2000 year old bog road and museum at  Corlea Trackway

Follow part of 1840's Famine walk on the Royal Canal.

Visit Strokestown Park House,  National Famine Museum and Gardens.

A 13th Century Norman castle.

Indulge in a great range of local cuisine and stay in beautiful accommodations situated beside rivers and quaint towns and villages.
5 dayTour includes 4 nights accommodation with Digital Route maps, bed and breakfast, luggage transfer, Bikes,Helmets and locks,  24/7 phone support for the duration of your stay, full advice for arrival and departure travel arrangements. 
**Airport Transfer Times To  Accommodation  -  Dublin - 1hr 45mts /  Shannon - 2hrs  /  Knock - 1hr / Belfast International Airport 2hrs 45m
**Please contact us  for Airport Collection.
Itinerary
Day 1 - Arrive in Ballymahon Co Longford
Begin this unique tour in Ballymahon in the  Heart of the Irish midlands . You will stay in  local accommodations.  If time permits you can explore the nearby Newcastle forest which holds 28 kilometres of trail for walking, running, cycling and nature watching.
---
Day 2 -  Corlea Trackway to Clondra and Tarmonbarry -  29km
After breakfast your tour guide will meet you and escort you on the Royal Canal  cycle to The Corlea Trackway and visitor centre. This is an Iron Age trackway near the village of Keenagh, County Longford, It was known locally as the Danes' Road. It was constructed from oak planks in 148–147 BC. We will plan the trip to coincide with the pre planned guided tours. Continue on and cycle a further 16km on the Royal Canal to Clondra Village. The 145km Royal Canal is a canal originally built for freight and passenger transportation from the River Liffey in Dublin to Longford. Trace part of the famine walk. ( An ill-fated journey of 1,490 famine emigrants who walked from Strokestown Park to ships in Dublin in 1847, at the height of the Irish Famine) Stop off for lunch at The Richmond Inn in Clondra. A beautiful harbour village steeped in history and the very last stop on the Royal canal. After a tour of Clondra we will cycle on to your accommodation. Sample the great local food and bars. An evening walk along the River Shannon is not to be missed.
---
DAY 3 - Tarmonbarry to Strokestown Park House & Famine Museum via Rooskey - 28km
Depart your accommodation for a 28km cycle to Strokestown House via the beautiful village of Rooskey. Continue on the meandering roads and experience magnificent lakeside views. A further 8km will bring you to the historical town of Strokestown. A morning and afternoon visit will be required to capture the full experience of  this beautiful preserved Georgian Mansion.
Take the guided tour and experience Irish court life in the 19th-century as you wander through the rooms still decked out with the original furnishings and fabrics. A visit to the historic gardens and woodlands is also recommended.  Visit the on site restaurant and sample produce from the original working gardens and grown by local volunteers.  After lunch, visit the National Famine Museum. The  Museum tells the story of the Great Irish Hunger of the 1840's including stories of Poverty, death and the assisted emigration scheme enacted by Major Denis Mahon of Strokestown Park and the story of his murder in November 1847.  
Return to your accommodation and relax with an evening meal. 
---
Day 4 -  Cycle to Roscommon - 21kms
Depart your accommodation and cycle through the heart of Ireland to Roscommon Castle. A 13th-century Norman structure built in 1269 by Robert de Ufford, Today, the Castle's past can be explored while enjoying adjacent Loughnaneane Park with a14-acre recreational area. After lunch you will visit the Roscommon county Museum situated in a former presbyterian church. 
Return to your accommodation and experience the great local food. Roscommon is a vibrant town with plenty of shops and restaurants. If time permits there is a beautiful golf club close by if this is your passion. Alternatively we would recommend a walk around the streets and a visit to the famous Irish bars.
---
Please contact us if you would like to extend your stay and we can accommodate you. If there are other areas you would like to explore outside this itinerary, please contact us and we can organise.  Alternatively we can arrange taxi transfer or information for bus and rail if your plan is to depart.
Gallery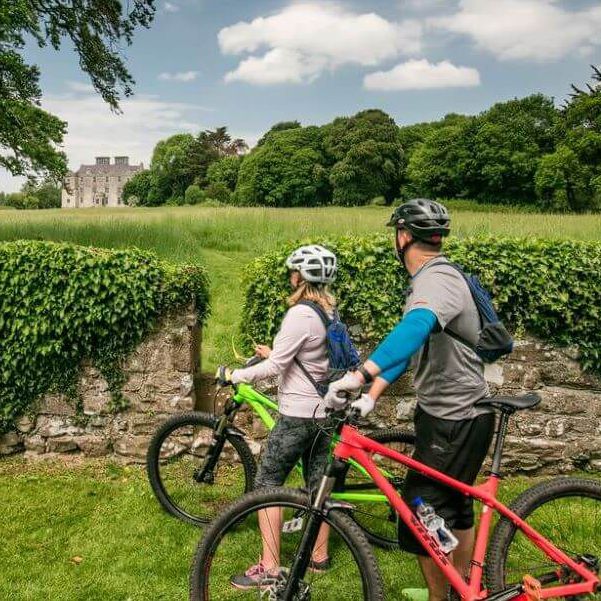 Accommodation
Please contact us for more information on hotels, B&Bs and guest houses.
Pricing
From €950 per person based on a minimum of 2 people sharing.
The tour includes:
Guided Tour, luggage transfers, Entrance to Museums and sites. Breakfast and evening meals provided with Hotel booking. If you prefer guesthouse accommodation price includes breakfast only. We have handpicked places where there are good quality restaurants and bars close by.
24/7 phone contact for emergencies or general enquires.
** Please note, Airport Transfer are not included. Please use Enquire form to Book.