East to West Irish Cycle
Overview
From single traveller to groups of 8
7 Day Cycle Tour - 378 Kms -  Average 63 kms per day - 
Choose your date to start and Cycle from Ireland's Ancient East via the beautiful lakes and mountains of Ireland's hidden heartlands. Continue your trip and experience Ireland's famous Wild Atlantic way. We've selected high quality hotels and guesthouses to suit your budget. Evening meals are available if your tour is booked to include hotels but all stops have easy access to restaurants. We can also supply Electric, hybrid or racing bikes to make your cycle as comfortable as possible. Luggage transfers are also included.  Guided tours are offered with groups of 8 or more. We would recommend Electric bikes if there are different fitness levels within groups.
Tour will include Digital Route maps, bed and breakfast, luggage transfer, Bikes,Helmets and locks,  24/7 phone support for the duration of your stay, full advice for arrival and departure travel arrangements. 
Airport Transfer to Maynooth - Dublin - 40mts /  Shannon - 2hrs 20mts /  Knock - 2hrs 10mts / Belfast International Airport - 2hrs 10mts. Please contact us for Airport transfer.
It is advisable to book early to avoid disappointment.
Itinerary
 Day 1   
Arrive in the historic town of Maynooth. 
Discover the ancient east with your first stop at the historic and vibrant town of Maynooth. A university town in north County Kildare,  St Patrick's College and Maynooth castle are notable attractions.
---
Day 2
Maynooth – Mullingar /  55km - Gradient 101 metres
Depart Maynooth and take the R148 road to Kilcock. Staying on the R148 road follow signs to Enfield and Kinnegad (38kms) This is a good place to stop for lunch as there is a good range of restaurants and supermarkets. Continue on the Mullingar road for a further 6.5 kilometers over the bridge and take a right for Mary Lynch's bar and restaurant. Please stop here and view the Royal canal. A 144km canal that starts in Dublins docklands and flows as far as Clondra in County Longford.  Continue on the main road for another 8kms and  depart at exit 15 for your first destination Mullingar.
If time permits a visit to Belvedere house is highly recommended which is just a 25 minute cycle outside Mullingar town. This is a magnificent 160 acre lakeside estate with a fully restored Georgian Villa.
---
Day 3
Mullingar - Carrick on Shannon / 79km - Gradient 250 metres
Depart Mullingar  and follow signs for the N4 & taking in the beautiful views of Lough Owel.  Passing through the villages of Ballinalack and Rathowen you will continue  through Longford town and Newtownforbes. Stop off at the scenic villlage of Roosky and have lunch on the banks of the stunning river Shannon. Cycle through Dromad to the N4 and follow signs for the historic town of Jamestown. Continue through the village and cycle a  further 6km to the picturesque town of Carrick on Shannon, where you will have the opportunity to visit inspiring riverside walks. There are also many Irish bars and restaurants to check out.
---
Day 4
Carrick on Shannon - Sligo via Parkes Castle / 66km - Gradient 375 metres
Depart Carrick on Shannon and follow the R280 road to the spectacular lakelands of Drumshambo. Continue on the R280 road to Drumkeernan, you will pass Lough Allen with stunning views of Sliabh an Iarainn. At 6km past Drumkeernan take a left  to Dromahair and Parkes Castle. Stop off at McGoldrick's bike stop for snacks and refreshments. After lunch follow the R286 road for 4 km and pass the scenic delights of Lough Gill. Continuing  around the lake you will approach the historic Parkes Castle. A restored plantation castle of the early 17th century, it is picturesquely situated on the shores of the Lough. Cycle on for 14km to Sligo town and commence your journey on The Wild Atlantic Way and for a two night stop over.
Sligo is the vibrant heart of the North West of Ireland and largest town in the region. Built on the banks of the Garavogue River, it connects Lough Gill to the Atlantic Ocean and boasts the magnificent backdrop of Benbulben Mountain. It is renowned for its history and culture. A two day stop over is ideal for soaking up the local atmosphere as well as visiting the many great historic sites, cosy bars and fine restaurants.
Day 5
Sligo -  Mullaghmore – Sligo  -  58km round trip - Gradient 320 meters
Video on our holding page.
Note - Some of our clients make this a rest day but we would strongly recommend a trip to Mullaghmore either by bike or car. 
Departing your accommodation follow signs for the N15 road to Bundoran. Experience the Wild Atlantic Way at its finest as you cycle north  towards Donegal. Experience stunning views of the Atlantic Ocean on the left and the iconic Ben Bulben mountain to your right. Continue through Rathcormack to the village of Drumcliff where the legendary Irish poet W.B Yeats is buried. 
 
Cycling on towards Cliffony turn left for the picturesque coastal village of Mullaghmore. At the edge of Mullaghmore turn left and take in the stunning views of Classiebawn Castle sitting in an evergreen spread overlooking the bay and Atlantic Ocean. Stop for lunch at the Pier Head hotel whilst looking over the beautiful harbour. Return to your accommodation which is a distance of 29km.
---
Day 6
Sligo -  Ballina  / 66km  - Gradient 350 meters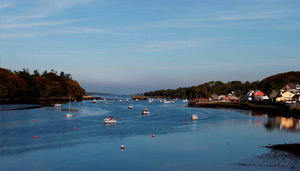 Depart Sligo on the R287 & follow signs for the N59 to Ballina.  Proceeding through Ballysadare village cycle 18km past the Ox Mountains on the left taking in the stunning views of Sligo bay to the right. Continue on to Dromore West 32km and take the left turn R297 for Easky.  Approaching Iniscrone there are beautiful and breath taking views. A stop off for lunch is recommended with a good choice of restaurants and cafes. Continuing past Enniscrone golf club, you will follow the Wild Atlantic Way coast road to the mouth of the river Moy where you will stop at your destination Ballina.
Ballina in North County Mayo lies at the mouth of the River Moy near Killala Bay.  The town is located beside the Ox Mountains to the east and the Nephin Beg mountains to the west. This is a truly lovely and scenic stop over.
---
Day 7
Ballina - Westport / 50km - Gradient 205 meters 
Depart Ballina and follow the N26 road for 3 km. Take the right turn on the R310 & follow signs for the Lough Conn Scenic drive & Castlebar. Continue cycling and experience the stunning views of Lough Conn with the mountain of Nephin in the backround. Cycle on and just before the beautiful village of Pontoon you will pass the bridge between the two limestone lakes of Lough Conn & Lough Cullen. This will lead you through the stunning Cunnagher Bog onto the vibrant town of Castlebar. Stop for lunch at one of the many restaurants and cafes.  After lunch cycle on to your end destination of Westport.
Recently voted the best place in Ireland to live - it offers plenty for  visitors to experience and enjoy, such as Westport House and a beautiful sheltered harbour. This delightfully laid out town boasts elegant Georgian streetscapes with stunning views of Croagh Patrick.
Please contact us if you would like to extend your stay and we can accommodate you. Alternatively we can arrange taxi transfer or information for bus and rail if your plan is to depart.
Gallery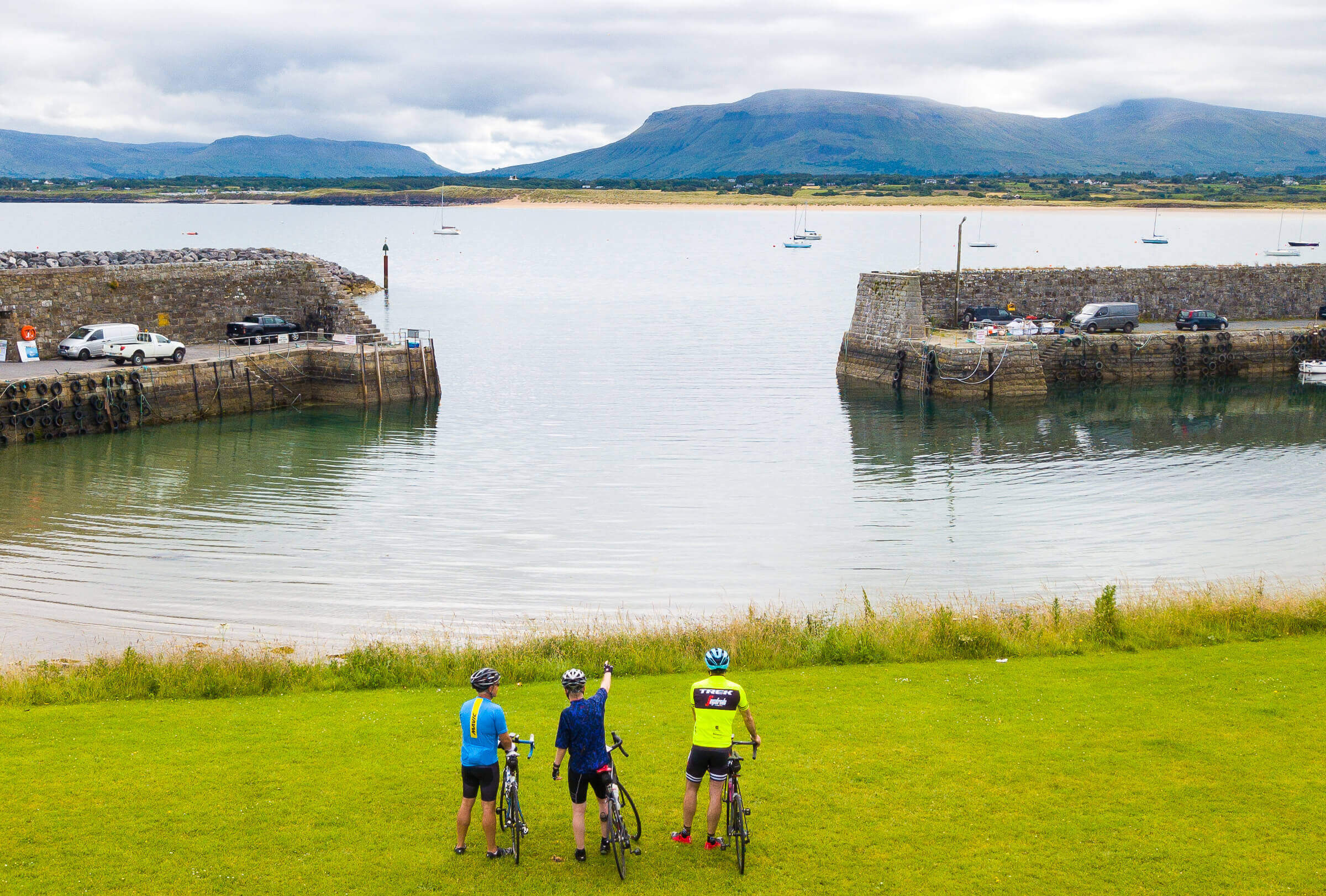 Accommodation
Please contact us for more information on hotels, B&Bs and guest houses.
Pricing
From €999  Per Person  based on a minimum of 2 people sharing
The tour includes luggage transfers, breakfast and evening meals provided with Hotel booking. If you prefer guesthouse accommodation price includes breakfast only. We've chosen accommodations where there are good quality restaurants and bar food close by.
Bikes and Helmets. Downloaded maps are provided.
24/7 phone contact for emergencies or general enquires.